Hi!  Just for fun, I thought I would do a mini review of the 2010 to 2019 decade.  My idea is to share two paintings a day representing a year each.  This is an exercise in contemplation, not so much one of critique.  In other words "here is where I was then".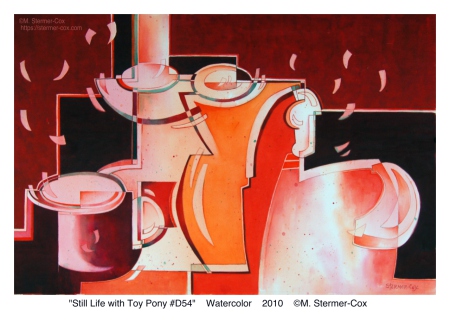 Today, I'll start the decade review with two from my "Still Life With Toy Pony" series.  In case you are not familiar with the series, it is based on a still life I set up that included  a toy pony.  Hence the name.
The purpose of the work in series was to explore and experiment the elements of composition.  Put more simply, I ask myself questions like "what if I do this…?"
So, "Still Life with Toy Pony, #D54" is the 10th painting in the series.  And, the 2011 painting "Still Life with Toy Pony #D41" was the 12th in the series.
And, just to clarify, the "D" in the title refers to a design number.  So, "D54 refers to a painting based on my 54th design.   I did a LOT of drawings, almost 80.  But, only about 20 have been been included in the series.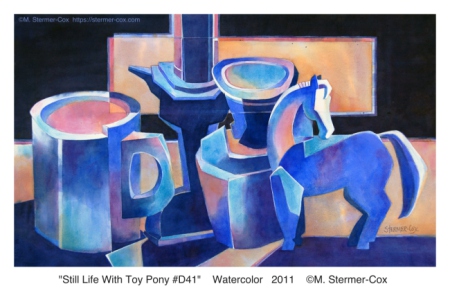 The plan, then, is to share two more paintings tomorrow.
PS.  If you'd like to see three more from the Toy Pony series, click on this post:
https://stermer-cox.com/2015/01/19/still-life-toy-p…ercolors-drawing/