Teachers, as in people who help others learn and acquire knowledge.
Famous Artists As Teachers.
Hi!  Recently, Daniel Smith Art Materials asked the following question on their Facebook page's "Sunday Salon Art Question":
"If you could learn from, and paint with any artists in history, who would you choose?"
Hmmm.  Oddly enough, I had to think a minute.  And,  you might say, I'm still thinking!
In any case, a list of my favorite artists scrolled through my head like Picasso, Rembrandt, Michelangelo, DaVinci, Velasquez, Miro, Singer Sargent, etc.  Not as easy a question as it looks to be.
Me As Art Student.
And, then I started to think about my own experience as an art student.  What do I value as an art student?  That is to say, what kind of instructor do I respond to?  Who has been most helpful?
Before I delve in to the issue of types of art instructors, I think I ought to say a word or two about being a student.  To explain, we have a role to play in our own education.  This is a point driven home to me by my father and artist John Stermer.
Story Time: Lesson From Dad.
You see once upon a time I was chattering on about going to school and the quality of teachers and on and on.  And, I babbled about art instructors and asked my Dad how to know if instructors were any good.  My father quietly reminded me that my role was to listen to the instructor and learn everything I could.  It is only later, after I have gained experience, that I can gage the quality of the instruction.
You might imagine an "oops" bubble floating over my head; the type that happens when I notice I've been totally clueless.  Dad was absolutely right.  Furthermore, as a rank beginner, it was a bit misguided and ridiculous for me to worry about the quality of teachers.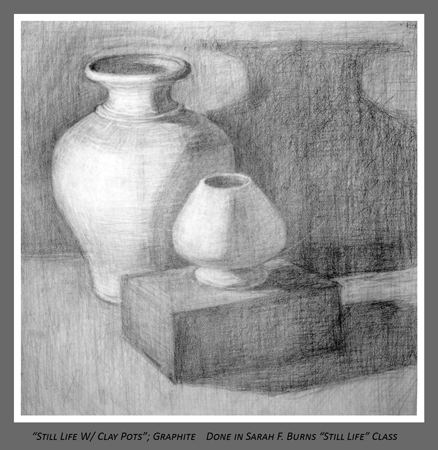 Tip One.  Be The Student!
That is to say, you, as the student, are there to learn from the teacher.  For many people, that may not be a problem.  However, if you're like me, there are times when its helpful to remember!
Tip Two.  Be Open Minded.
Building on tip one, students ought to approach class with an open mind.  Yes, even though this is supposed to be about the teacher, students need an open mind in order to learn.
Case in point.  A few years ago I signed up for a workshop from one of my favorite watercolor artists.  I had read his book and thought it was great.  I could hardly wait for the class.  Then, workshop day came and I had to force myself to stay in class.
You see, the workshop was not as I imagined it would be.  That is to say, I had built up the class in my mind and there were things I expected to learn from the instructor.  But, the workshop was something different.  It took me a little while to let go and, then, open my mind to what the instructor was trying to say and do.
Tip Three.  Go Local.
You can learn a ton from art classes in your local community.  I have had several excellent instructors and they were just down the street.  The instruction was first rate and just what I needed.
Later, if you want to go take a workshop from your favorite artist, you will be ready with a strong foundation.
And, you can always (still) go local!
Tip Four.  Learn From Your Fellow Students.
Its kind of a "we are all in this together" attitude.  We all have something to share, something we have learned that is useful.   Think of it as a total learning experience.
Wait a minute, when am I going to get around to the teachers…what do I value?
Tip Five.  Match Skill Level With Class Intention.
No, this is not about the teacher yet.  However, when I thought of value I was reminded about one of the classes I took.  I wanted to take the workshop because I loved the artist's work.  I wanted to learn how to do what she does.  So, the workshop sponsor had an opening and I signed up.
But, there was a little qualification from the workshop teacher.  She said her class was meant for intermediate and advanced watercolor artists.  What does that mean?  I had been painting for a year to 18 months.  Was I an intermediate?  Certainly, I wasn't still a beginner.  (Little did I know…and that's the point!)
I asked – how do I know if I'm an intermediate or advanced student?  Oddly enough, I never received an answer.  Maybe its one of those cases where if you have to ask, maybe you're a beginner.
In any case, it was probably not the best workshop for my skill level but I enjoyed it anyway.
Back To Art Teachers.
So, after five tips I'm no where near to what I value in an instructor…or am I?
I love to have teachers who are approachable and knowledgeable.  Beyond that, I'm not certain there is such a thing as the perfect instructor.  As I look back, I've learned something valuable from all my instructors!
Still, it would be fun and work to take a workshop from John Singer Sargent, Winslow Homer, Pablo Picasso, Rembrandt Van Rijn.  I just hope I could be a good enough student!
Acknowledgement.
Websites for two of my local art teachers.  They are first class instructors.