Still Painting!
The drawing and painting challenge is over.  What to do next?  Continue painting!  Going for 60 plus days!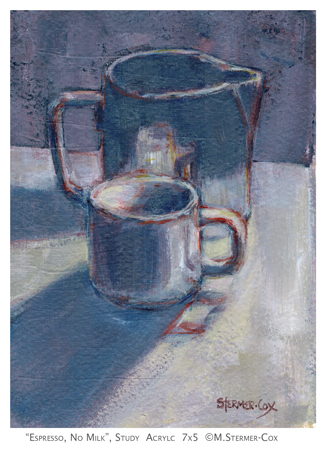 Changing Challenges.
Greetings!  Yesterday marked the end of the Strada Easel 31 Drawings and Paintings From Life January challenge.  And, today is the start of the Saeta Studio's 30 Paintings in 30 Days challenge.  
So, I'm sure you guessed it and, yes, I'm taking up the new challenge.
Why Oh Why?
That is indeed the question I ask myself.  But, as the previous challenge was winding down, I started wondering "now what"?  I needed a goal beyond the end of January.
Create A Habit.
What I am particularly interested in is developing a lasting habit.  So, that is why I'm continuing on.  Its about managing time in a way that better suits my goals and desires.
Inspiration.
Plus, artist Karen Knutson has been participating in this challenge for multiple years and I find it inspiring to see what she does!  It was through Karen's blog that I discovered the challenge.
One Step At A Time, Go Forward!
Lest I sound too righteous, I know that doing back to back challenges is tough.  There is a possibility I will not be able to complete it.  But, I won't know if I don't try.  So, onward!
Same Goal.
Once again, my over-riding goal is to complete the challenge.   I plan on accomplishing this goal by making better use of available time.  To clarify, its about  establishing a new daily routine to manage personal and professional work time.  In other words, creating a habit as mentioned above.
Difference: From Life To Abstract.
I also have an idea that I would like to work in series.  That is to say, I will pick a subject and go from a more realistic representation to a abstracted composition.
Variations – My Favorite!
Put another way, we're talking about variations on a theme.  So, I might do six paintings based on one still life set up. Then, change on day seven and start the cycle all over again.  Its a plan anyway!
Getting Going!
So, on with Day One and the Challenge!
#stradaeasel #30paintingsin30days #MStermerCox